Diffrient World – from £299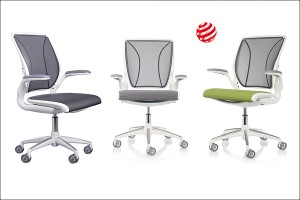 From

£299.00

+ vat
Diffrient World marks Humanscale's first foray into all-mesh task seating. Like its mesh-backed forerunner, Liberty, the Diffrient World chair's tri-panel backrest hugs the body to provide tailor-made lumbar support, while its mesh seat eliminates contact stress under the thighs. But Diffrient World's major innovation is its mechanism-free recline action, which leverages two parts of the chair's frame and the laws of physics to provide automatic,
balanced support throughout the full range of recline. No chair is more intuitive, creating the ultimate user-friendly sitting experience.
Revolutionary Mesh
Liberty's translucent mesh textiles were designed by Elizabeth Whelan
to provide optimal ergonomic support and comfort by melding strength,
flexibility and resiliency. They surpass the performance criteria for
contract seating textiles and meet a variety of environmental standards
in both the United States and Europe. They have a pleasing hand that
is gentle to the touch. In fact, these mesh offerings were specifically
designed to be gentle on your clothes as well.