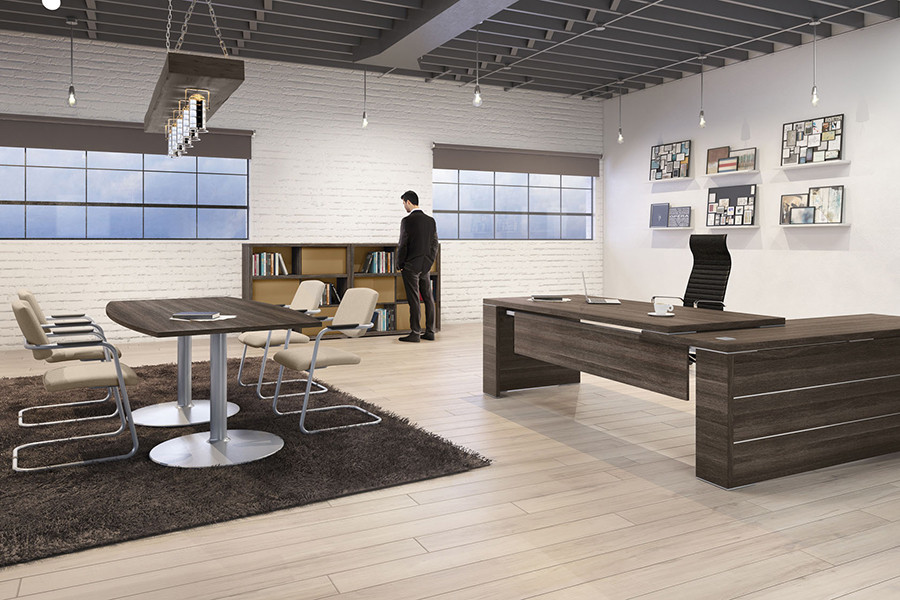 Kara masterfully combines contemporary
wood veneers with melamine surfaces
presented in a matching finish, resulting in a
decidedly modern executive office design.
The range has become a favourite choice for
today's executives, largely thanks to its
extensive choice of layout configurations
1-2- Two types of leg design: melamine panel leg or metal leg with melamine embellishers.
3- Optional melamine modesty panel 30 cm high, in a matching finish to worktop. Supporting return on melamine legs adorned with 2 metallic aspect PVC decorative trim strips.
4- Supporting pedestal with 3 drawers, placed in an offset position beyond the end of the worktop, creating an additional work surface. Enamelled glass or melamine top. 5- Square, circular, rectangular or barrel meeting tables. 6- Melamine cupboards with
drawers. Cupboard shell made from 38 mm thick melamine panels, doors and shelves 19 mm thick. Cupboard shell and shelves in a matching finish to worktops.
Cupboard back, doors and drawers presented in a snow  white MG finish or taupe RU. Alternatively, sliding doors in enamelled toughened safety glass 4 mm thick.