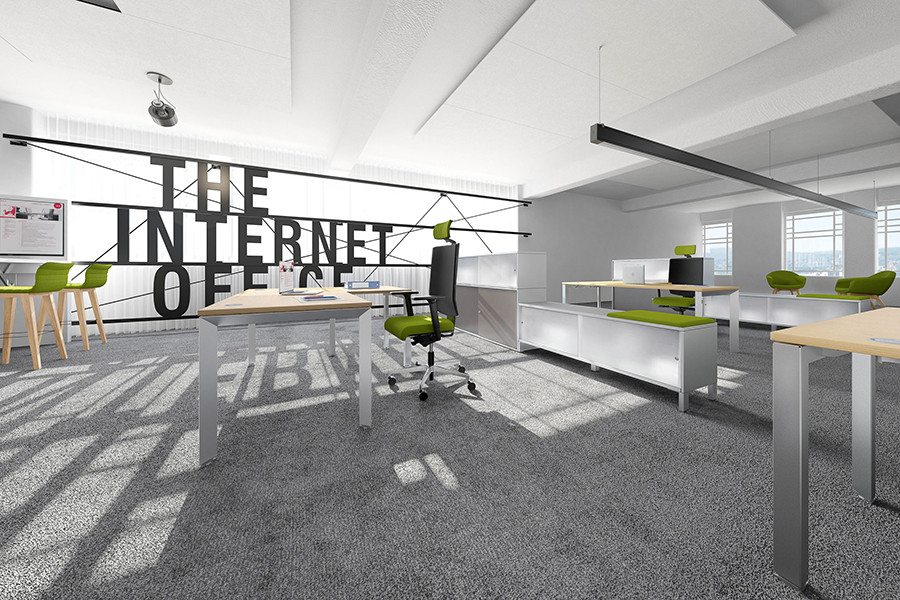 4Most has reinvented itself, with the addition of a
new sloping leg design. The range continues to offer
the highest degree of versatility thanks to its endless
choice of storage options and integrated workspace
privacy solutions. Keeping up with the times, 4Most
desks offer ever more integrated power and data
connection capabilities.
5 metal leg versions:
1- Tubular rectangular section Bridge legs
2- Tubular rectangular section sloping Bridge legs. Fixed legs H. 73.50 cm individual or shared
3- Tubular triangular section Bridge or Frame legs. Fixed Bridge legs H. 73.50 cm or height-adjustable from 62 to 86 cm. Fixed Frame legs H. 73.50 cm
4- Shared structure worktops fitted with an aluminium top access housing 240×120 mm, incorporating a grey brush to facilitate cable routing, soft closing cover mechanism, integrated metal cable trough for the storage of cables and trailing sockets (offer available from stock on MG and RI finishes)
5- Desks are pre-drilled with openings to receive optional « eol. » ø 80 mm cable ports, to facilitate the channelling of cables from the worktop to the desk structure
6- Bench desks, sliding worktop fitted with a structural twin cable trough for the storage of cables and trailing sockets. Individual access
7- Shared desk structure, fixed worktops, optional metal cable trough to facilitate routing of cables and storage of trailing sockets. Worktops with top access housings feature integrated cable troughs
8- Cable troughs for individual workstations. Attach to the structural crossbeam or the underside of the worktop using wood screws
9- Free-standing or supporting melamine storage units
Intermediary desk legs are fitted with an optional metal housing panel to facilitate the vertical  channeling of cables.